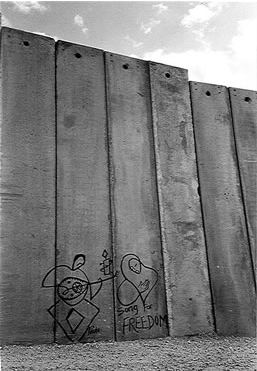 In spring 2004 I was awarded an arts council grant to be an artist in residence in Palestine. My aim has been to create a series of artwork to reflect and celebrate the lives and traditions of Palestinian women. I have worked in association with Amnesty International as a painter for human rights since 1988. This project has allowed me a sensitive insight into the rich but devastated Palestinian culture as I attempt to document the daily lives of women who are the innocent victims of a brutal conflict; whose most basic human rights are being eroded by life under Israeli occupation.
As a women artist I was able to share a special intimacy with the women from a predominantly muslim culture. I stayed with families in towns, villages and refugee camps in the west bank. The hospitality, generosity and warmth of the Palestinian people is unique. Whilst in Palestine I have done 'Painting for Human Rights Workshops' at the Young Artist's Forum and the Sakakini Cultural Centre in Ramallah, at the international centre in Bethlehem and at the Community Centre in Balata refugee camp in Nablus. I have also put in place a cultural exchange between children at schools in Bethlehem and Brighton.
Exploring the different dynamics of my mediums of expression, I developed my ideas and sketches into etchings, aquatints, linocuts and screen prints at the Artichoke print workshop in London. When I returned to Palestine for the exhibition of my prints in Bethlehem, Jerusalem and Ramallah  I was able to give an artist's proof to  the women who inspired the picture, for without their strength and beauty this body of work would not exist. I use my artwork to encourage an awareness and understanding of a people and nation who are about to be hidden from the eyes of the world behind an eleven metre apartheid wall.
Exhibitions
Amnesty International Human Rights Action Centre – London 2006
"Powerful work that deserves a wide audience" Kate Allen Amnesty International
French Cultural Center Jerusalem – March 2006
"Inspiring work that manages to bring hope to an otherwise bleak situation."
Sharmila Devi   Financial Times  Jerusalem
Khalil Sakakini Cultural Center Ramallah – March 2006
"How wonderful to have an exhibition which includes our social life, our heritage, and our woman. We thank you for this beautiful and humble work".
Areen Rinani
Circulo del Arte – Barcelona 2005
El triunfo de la vida y la esperanza sobre el sufrimiento y la destruccion.
International Centre of Bethlehem – October 2005
"Your art is a remarkable form of advocacy"
Hermina Damous
Kufa Gallery London – July 2005
"You've captured the richness of the Palestinians in the midst of the poverty of the situation – beautiful and evocative."
Betty Hunter PSC
Trinity Gallery Kent – April 2005
"So many stories emerging from the drawn line. The history and sadness, beauty and strength spilling out from every image".
Sherry Robinson